Residential area
GREEN URBAN RESIDENTIAL AREA
Location: Loc Chau Commune, Bao Loc City, Lam Dong Province
Scale: 91,248 m2
Products: shophouse, garden townhouses, villas.
Product number: 357
Handover standard: finish outside, rough inside
Utilities: More than 10 theme parks, landscaped gardens, cafe restaurants, BBQ, shophouse, golf course, 24/7 security ...
UNIQUE LOCATION
GREEN URBAN RESIDENTIAL AREA has a prime location at Nguyen Ba Ngoc Street - National Highway 20 - the arterial road connecting Ho Chi Minh City - Bao Loc - Da Lat, this is an important route creating opportunities for parallel development of tourism and tourism. economy. With the advantage of being close to the road at the gateway to the center of Bao Loc city and unique and different architecture, GREEN URBAN RESIDENTIAL AREA is also expected to become the "façade" of Bao Loc city.
FLORENCE - TUSCANY ARCHITECTURE STYLE 
The product of the GREEN URBAN RESIDENTIAL AREA project is inspired by the architectural style of Florence - Tuscany - Italy, which makes a difference by colorful houses, personalizing each house for homeowners in the complex. architectural consensus. Especially with the enthusiasm to keep the natural beauty of Bao Loc's terrain, the rows of houses are cleverly distributed and built according to the topography of the land to create a very unique, winding and rolling landscape. Most importantly, vibrant colors are the factors that position the excitement and freshness of the project with the goal of making GREEN URBAN RESIDENTIAL AREA an attractive new destination in Bao Loc.
GREEN URBAN RESIDENTIAL AREA PRODUCTS
GREEN URBAN RESIDENTIAL AREA has a scale of 91,214m2, including 2 main subdivisions with a total supply of 349 products including shophouses, townhouses, garden townhouses, and villas with an area of ​​100-400 m2. With a unique architectural design and usability, it is suitable for a variety of investment - resort - accommodation needs.
In particular, Shophouse and commercial townhouses are designed to optimize business space combined with spacious and airy living space with an area of ​​​​100 - 300m2, designed with 1 ground floor 2 floors. In which, the first floor is for business purposes, the second and third floors are family living spaces with living room, kitchen, bedroom, family entertainment area and terrace. It can be seen that this is an extremely ideal space to do business in accommodation facilities and industries that are seriously lacking in Bao Loc city such as mini-hotel, cafe, bar, club, entertainment, dining. , Resort…. due to the tourism boom of Bao Loc in the near future when the Dau Giac - Lien Khuong expressway is completed and opened.
Besides, garden houses and villas are also highlights not to be missed when coming to GREEN URBAN RESIDENTIAL AREA. Still the typical Italian architecture of the project, the garden and villa are designed gently and delicately, bringing luxurious and classy European beauty in the heart of poetic Bao Loc. With this product group, the investor especially wants to create a home for a family of three generations, so placing the bedroom on the ground floor is a top priority when arranging product layout.
30+ UTILITIES
With the enthusiasm to bring Bao Loc a model urban area, the Investor also focuses on planning more than 30 high-class utilities inspired by ancient Roman mythology to improve the lives of residents. The main highlight of the whole project are 4 gardens named after 3 Roman gods: Cupid Garden, Minerva Garden, Apollo Garden and Eden Garden, which are interspersed throughout the project in addition to creating a green space. There are also unique "check-in" points that tourists must visit when coming to Bao Loc city such as the leaning tower of Pisa, angel wings, dandelion flower light garden, time gate, art path , green labyrinth, fountains, squares, seasonal art flower gardens, Firenzi overpass... There are also utilities for the needs of settlements, resorts, and entertainment such as: courtyards and courtyards. golf practice, health care center, kindergarten, cafe, basketball court, skateboarding field, meditation - yoga area, BBQ area, jogging track, Ngoc Suong restaurant, ...
AREA LINKS
In addition, within a few minutes, residents of GREEN URBAN RESIDENTIAL AREA also enjoy all the existing utilities of the stable socio-economic infrastructure system in the area such as schools at all levels, markets, supermarket, shopping mall, hospital, bank, bus station, People's Committee center, .. Only from 5-10 minutes away, you can connect to famous tourist areas in Bao Loc: Tan Ha parish, church Bao Loc, Bat Nha monastery, Amitabha pagoda, Tam Chau tea hill, Nam Phuong lake, Tuyet Tinh Coc, hunting hill, Loc Chau sheep hill, Saprung mountain cable car...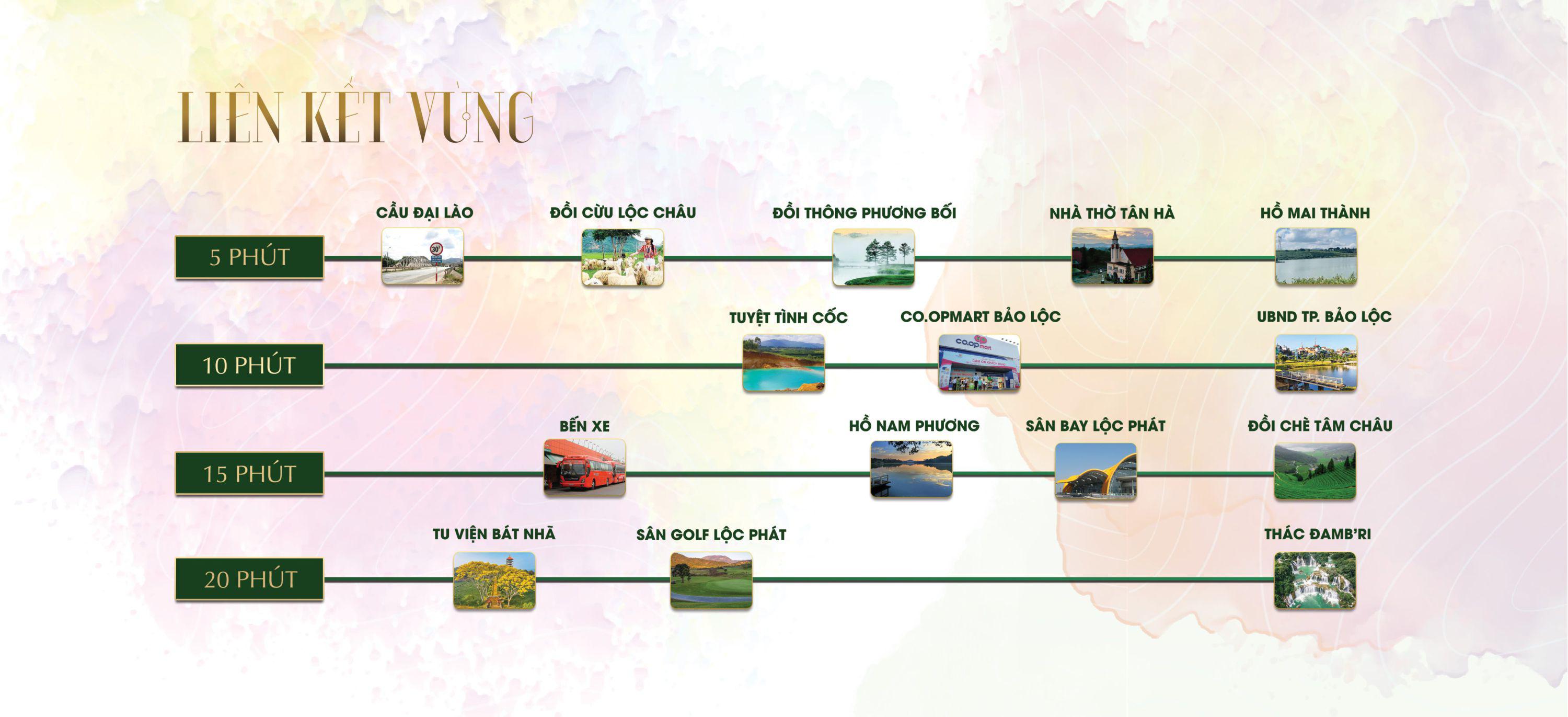 In particular, GREEN URBAN RESIDENTIAL AREA is a project marked by strategic handshakes between the investor Eras Dalat Company and Eras Land development unit with the big players in the financial and operational management market. , design and construction consultancy such as: AHS operation management unit, GK design consultancy unit, Decofi construction general contractor.
The competitive advantage of GREEN URBAN RESIDENTIAL AREA in addition to the fact that this is a rare project in Bao Loc that has a 1/500 license, the project also scores points with investors and customers as complete home delivery.
With methodical planning, full facilities, class GREEN URBAN RESIDENTIAL AREA is the ideal destination for tourists to have fun and entertainment, is the perfect choice for a second home, a place to return to regenerate. energy, health and spiritual care as well as an attractive profitable investment channel in this period.